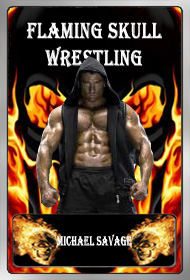 The story of a man, a friend and a Legend.
Matt Story was a creative and clever wrestler and rper.
Starting his career in TKO wrestling under the name Just Justin. He was quickly recognized for his intense rps and sharp wit. He joined the then fresh start promotion HWA. It was there that his character began a 2 year long feud with Jess Grim that lasted through FSW. "He was just a guy you couldnt help but like", Says Grimm. His feud highlights included a crucifix match,inferno matches. The 2 year long feud was capped off by an inferno match were both wrestlers were burned and thought to never been seen again.
After a 4 month hiatus both wrestlers were preparing to return to fed rping when tragedy befell twg.
Matt Story passed away of a heart attack at the age of 32.
Matt was known by Just justin and Micheal Savage.
Jess Grimm retired from Twg after the passing, saying "The game is not the same without Matt."
After 3 years Grimm returns twg. As a constant tribute to his fallen friend. A pic of Matt Story is permanently on Grimms wrestling card.
Matt may be gone but will never be forgotten.
To my best friend on this game I say Rest in Peace. And I will continue to try to honor your memory.
Long Live Matt.
MWA Next Generation!





Posts

: 1166


Join date

: 2014-09-21



he was one hell of man and great role player he is clearly miss by those who knew him


MWA Next Generation!





Posts

: 1166


Join date

: 2014-09-21



I felt as sad as you when he pass away... in FSW he made a lot of helpful funny comments and i always appreciate his help, that's why i let him run the fed in the fourth season of FSW... and well... he was a great man, roleplayer, friend.

I am glad that you have him in your wrestler card. Rest in peace Matt
_________________
The Chilean Wrestler and Vice-General Manager of MWA
Palmares:
5 wins  

 - 3 lose  

Championships
: MWA Heavyweight Championship x1

MWA Pro Wrestler





Posts

: 360


Join date

: 2014-09-25


Age

: 26


Location

: Santiago, Chile






 R(eturn) I(f) P(ossible)
He was a great man with great ideas, will always be missed.
Matt Story was one of 3 people that helped give me the push when I was started rping in twg. A true legend and sorely missed
---
Permissions in this forum:
You
cannot
reply to topics in this forum