Backstage: The darkness is reigning. No one is here. The cameraman is walking toward. Toilet, Men's Locker Room, Women's Locker Room, he is walking in front of all of these rooms and keeps walking throught the backstage. Suddenly, he stops and films the door of a room: Leana is written on a star. The door is open, he tries to shoot inside the locker room silently, but it's too tight. He pushes a little the door... more... more...more... the door is completly opened. Some candles are burning all around the room. On the floor, there is a lot of blood. The blood is fresh: someone is injuried. A way of blood is made accidentally, and lead our attention to a room, surely the bathroom of this guest room. The cameraman is walking toward it, avoiding the blood. On the wall, a voodoo doll is hanged with a piece of rope.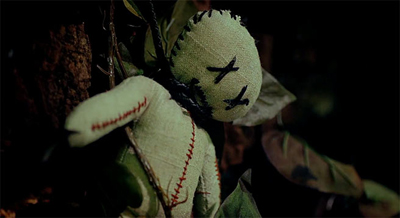 Arrived in front of the door, the cameraman shouts "Someone's here ?"... no answer. He doesn't understand. He knocks at the door.

BAAAAAM !!!!
The door of the guest room closed suddenly, without any reason. No one, no wind... how this door has been closed ? The cameraman starts freaking out. He opens the door of the bathroom. No light. All dark inside. He enters and shouts: "Someone's here ?". He walks toward the bath... slowly... one step... an other one... one more...he grabs the bath curtain... and removes it: 
Voice: Help me... HE'S COMING !
AAAAAAAAAAAAAAAAAAAAAAAAAAAAH !!!!!
Camera turns to black.

woah 

---
Permissions in this forum:
You
cannot
reply to topics in this forum