The Camera cuts to a Pre-taped video recorded at what seems like hours earlier, and it shows the front of the MAD Arena where a Black customed Revenant Muscle Car is parking, Suddenly the door opens and Hayley Heavens quickly emerges from the Car, dressed in black Jeans and Black Revenant T-Shirt...A Crew of Cameramen quickly rushes towards her and she starts speaking without hesitation

Hayley: I know what you're thinking, yes, I am 4 hours early for the show as our....beloved, general manager whose name i cant seem to remember right now..has asked me to come extra early to um, shoot this special video package for tonight's PPV show, ladies and gentlemen, it's time, for MAD's 9th PPV or the First one of this New Era that they talk about that no one seems to care about..you get my point?...But...Either way..Ladies and Gentlemen..Welcome to Death Row..

She places a hand in her pocket and takes out a pieces of paper before continuing

Hayley: Tonight's card will be a spectacular one no doubt, we will kick off the show with Rated Rs going against Speedy...and it is supposed to be the One last time they fight each other to settle the score for whatever they have going on..if you are stuck in traffic while making your way to the arena today..then i can assure..you won't be missing much then..apart from Rated getting his ass kicked by a mouse...

Hayley lets out a smile

Hayley: Then we have the Web of Doom facing off against the Hallions...Sorry i mean the Hellions..for the Tag Team titles...did we ever had a Tag titles?...Oh Well..first I'ave heard...I am sure this will be an entertaining match-up! Or, it could be a one sided beatdown of the Hallions who i have never heard of and this match could easily last between 40 seconds and 2 minutes. Who knows? I certainly don't...do i want to know? probably not...Moving on.

Hayley looks at the pieces of paper

Hayley: On to the next one..you guys will be having quite a treat for this one, for the first time if i am correct..my good Revenant friend Henri Dark will defend his Entertainment Title against Kevin Black!...Sorry...i am getting some whispers in my ear that i mixed their names up but you get the point i was trying to make..its basically the same thing isn't it? Dark?...Black?...anyway...looking at this match up...it is what it is...Entertainment!..you can expect some insane entertainment at this moment..and you should also expect nothing less than Henri Black beating Kevin Dark..Blue and Black..to retain his Entertainment title...Gosh this is harder than i thought...Bruh...Metaphors are overrated!

Hayley opens a door leading into the MAD Arena, she enters while continuing

Hayley: Then onto another supposedly epic match up! a MAD World Title Fight...In the red corner, formerly weighing in at 300 pounds, but recently lost weight from liposuction, the alleged face of MAD..who is unfortunately also our Champion...Overgiver!!! will put his belt...that's right...He will put his belt on the line to go up against, the man in the blue corner...whose name i always struggle to pronounce...The dude from some ghetto in Brazil!! Lianon!!!...i think pretty much everyone and their grandmother's dog knows the outcome of this match already...so don't worry folks...feel free to use this match as a bathroom break!...the Toilet is on the second floor..third door to the right...

Hayley winks at the camera and smiles as she continues

Hayley: Okay..i am getting word that i probably messed up the order that these matches were supposed to go in but whatever...i'am the one cutting the promo...My Rules...Next up is Helena Noir putting her title on this line against Maxx Ouellet...This will be an Epic Match i can assure you that..and i am expecting this two to give it their all and do what they do best...which is put on a Good show...But...as you people saw last week..My Client..Hennerz smashed Maxx in the head with that beer mug last week..so i believe that the side effect will be of hindrance to Maxx's performance tonight...so to all my betting buddies watching this right now...the bookies have it 2/1 for Helena Noir to wipe the floor with Maxx Ouellet and retain her championship...you can thank me later for the extra bucks!!

Hayley flicks her hair and laughs, as she clears her throat

Hayley: Then finally, in the main event of this PPV...Well..kinda...will be a Title match for the Asylum X Championship, starring the legendary and an all time great...legend of this business...My Client...Hailing all the way from Londonnnnn Englanddddd!! The Noooomadiiicccc Oneeee!! Hennnnnerrrrzz!!!!....up against....King Muscle.

Hayley pauses for some brief awkward moment before she continues

Hayley: Well this is it folks, that's all we got time for...have a great night, and be sure to catch us next season! if we can even make it there..i highly doubt it but who cares?...I'm off to get my mascara, tan and nails done...C..Yah!!!

Hayley Heavens quickly leaves the perimeter, she approaches the Car waiting for her and steps in as the Car quickly speeds off...the Camera fades to black.
_________________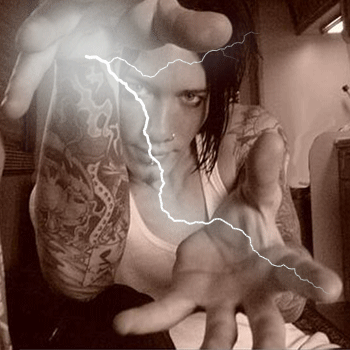 Hennerz

MWA Starter





Posts

: 36


Join date

: 2015-04-15



Similar topics
---
Permissions in this forum:
You
cannot
reply to topics in this forum